Frozen meatballs for catering, retail and food industry
Our tasty meatballs are made in a traditional way and are delicious in a range of dishes! They are available with our "Quality Frozen Meat Products" retail label, as wholesale in bulk packaging without a brand label and tailored to your needs.
We offer various frozen pre-cooked meatballs for every occasion, and meatballs made exclusively from chicken meat.
Weight is between 20 and 50 grams each, depending on the variety.
New ELV offers meatballs that taste of tradition, quality and craftsmanship. We always think from the perspective of the consumer, not the producer.
We are happy to advise, inform and help, also when you have specific wishes. Do not hesitate to contact us for more information.
---
Sign up for our newsletter and receive regular updates on new products and discounts!
---
Discover our different types of meatballs below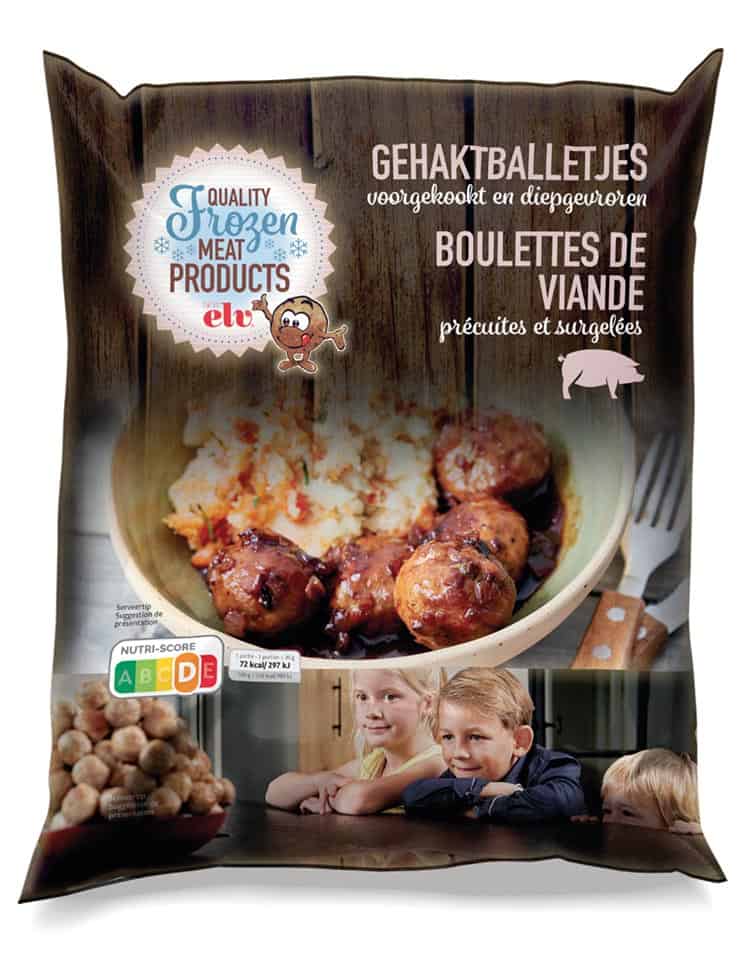 Meatballs – Retail packaging
"Quality Frozen Meat Products" label
Pre-cooked and frozen
Pork, chicken and mechanically deboned chicken and beef
Weight: ±30 g each
We are also happy to tailor to your specific wishes
Technical info

Packaging
"Quality frozen Meat Products" label
Volumes and offtake
1 kg packaging – Orders from 480 kg
Ingredients and nutritional values

Ingredients
Pork (50%), chicken and mechanically deboned chicken (20%), beef (5%), breadcrumbs ( WHEAT ), water, salt, WHEAT FLOUR , dietary fiber, spices , dextrose, stabiliser: E451, flavouring.
Average nutritional value
Per 100 g
1 portion 30 g
Energy
989 kJ
297 kJ
 
238 kcal
72 kcal
Fats
16.5 g
4.95 g
of which saturated
5.7 g
1.71 g
Carbohydrates
7.5 g
2.25 g
of which sugars
0.3 g
0.09 g
Protein
14.3 g
4.29 g
Salt
2.25 g
0.68 g
Meatballs – Retail packaging
"Quality Frozen Meat Products" label
Pre-cooked and frozen
Pork, chicken and mechanically deboned chicken and beef
Weight: ±30 g each
We are also happy to tailor to your specific wishes
Technical info

Packaging
"Quality frozen Meat Products" label
Volumes and offtake
1 kg packaging – Orders from 480 kg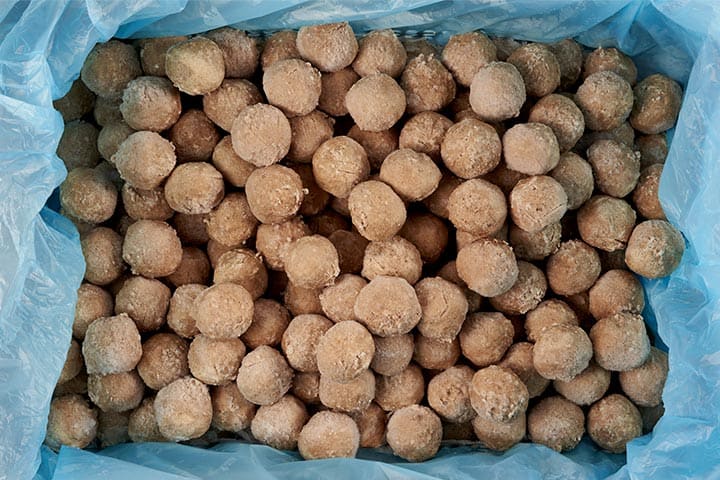 Meatballs – Bulk packaging
Pre-cooked and frozen
Pork, chicken and mechanically deboned chicken and beef
Weight: ±30 g each
We are also happy to tailor to your specific wishes
Technical info

Packaging
Bulk packaging
Volumes and offtake
2,5 kg – 5 kg – 10 kg packaging
Orders from 20 kg
Ingredients and nutritional values

Ingredients
Pork (50%), chicken and mechanically deboned chicken (20%), beef (5%), breadcrumbs ( WHEAT ), water, salt, WHEAT FLOUR , dietary fiber, spices , dextrose, stabiliser: E451, flavouring.
Average nutritional value
Per 100 g
1 portion 30 g
Energy
989 kJ
297 kJ
 
238 kcal
72 kcal
Fats
16.5 g
4.95 g
of which saturated
5.7 g
1.71 g
Carbohydrates
7.5 g
2.25 g
of which sugars
0.3 g
0.09 g
Protein
14.3 g
4.29 g
Salt
2.25 g
0.68 g
Meatballs – Bulk packaging
Pre-cooked and frozen
Pork, chicken and mechanically deboned chicken and beef
Weight: ±30 g each
We are also happy to tailor to your specific wishes
Technical info

Packaging
Bulk packaging
Volumes and offtake
2,5 kg – 5 kg – 10 kg packaging
Orders from 20 kg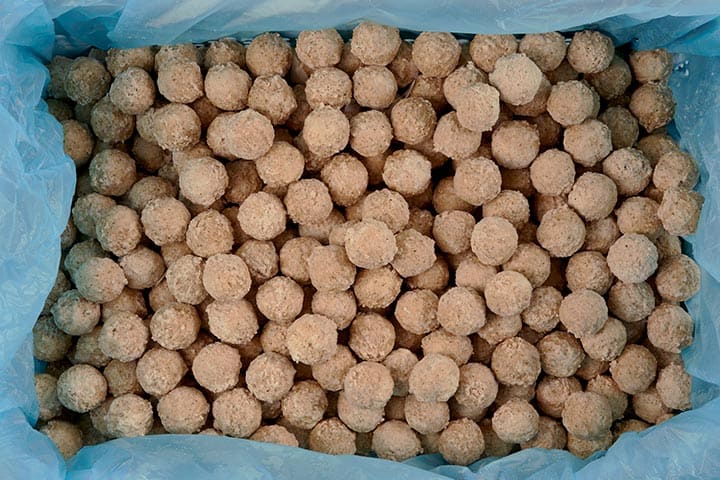 Chicken meatballs – Bulk packaging
Pre-cooked and frozen
Chicken meat
Weight: ±20 g each
We are also happy to tailor to your specific wishes
Technical info

Packaging
Bulk packaging
Volumes and offtake
2,5 kg – 5 kg – 10 kg packaging
Orders from 20 kg
Ingredients and nutritional values

Ingredients
Chicken meat (75%), breadcrumbs ( WHEAT ), water, salt, WHEAT flour , dietary fiber, spices, dextrose, stabiliser: E451, flavouring.
Average nutritional value
Per 100 g
1 portion 30 g
Energy
1024 kJ
308 kJ
 
246 kcal
74 kcal
Fats
17.0 g
5.1 g
of which saturated
5.0 g
1.5 g
Carbohydrates
10.5 g
3.15 g
of which sugars
0.5 g
0.15 g
Protein
12.0 g
3.6 g
Salt
2.5 g
0.75 g
Chicken meatballs – Bulk packaging
Pre-cooked and frozen
Chicken meat
Weight: ±20 g each
We are also happy to tailor to your specific wishes
Technical info

Packaging
Bulk packaging
Volumes and offtake
2,5 kg – 5 kg – 10 kg packaging
Orders from 20 kg